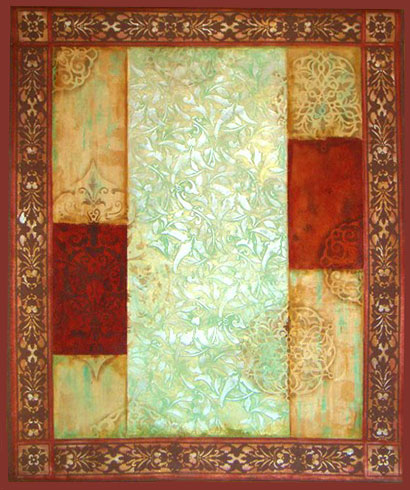 We are located southwest of Houston in a place we still like to think of as "the country". However, my artwork and design can be found in homes throughout the Greater Houston area.

I have been painting since 1995. At one point, I thought I would garden and sell herbs, but after picking up a paint brush, the shovel and rake seemed to gather dust. I still love to garden and it is still very much an inspiration to my work. I am also very intrigued by design and architectural elements. You will also see this reflected in my work.

My work includes faux finishes, textural finishes, decorative painting and murals. I am also beginning work a new line of art - some whimsy, some textural, some paintings and canvas murals.... all ready to adorn your walls! I am really excited to introduce these items, as they have been brewing in the back of my creative mind for several years now. The imagination is the only thing that limits my work. There are so many wonderful products out there, that I never know what will inspire me next. Custom work is always welcome, and I would be delighted to work with you and your artistic needs.

I encourage you to browse through my galleries. I hope you too will be inspired!

All web site backgrounds, images, and designs by the artist.